Named to Roaring 20 List
Arrowhead Environmental Services Makes First Appearance on Roaring 20 List as a Fastest Growing Company in Hampton Roads, Virginia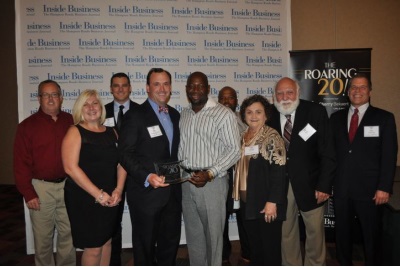 PHOTO CAPTION: At an awards ceremony on November 2, 2017, Mike Luter, President, Arrowhead Environmental Services (l, center holding award) and Steve Mack, Vice Preseident (r, center holding award) received the Roaring 20 Award from Inside Business Editor, Ron Crow (far r). Mike and Steve are joined by team members (l to r) Richard Edens, Amy Stephens, Tyler Egerton, Deon Grandison, and Mike's mother, Charlotte Jones and step-father Roger Jones.
Windsor, Virginia, November 9, 2017 - Arrowhead Environmental Services, an industrial and environmental services company serving Virginia and North Carolina, was named to the 2017 Inside Business' Roaring 20, which names the twenty fastest growing companies in Hampton Roads, Virginia. These awards were the company's first appearance on both lists.
"We are honored and excited to receive this prestigious award," said Mike Luter, President. He credits his team for their hard work and dedication to each and every client and job. "Our focus on delivering exactly what our customers need has allowed us to focus on the quality work that they have come to expect, earning us more invitations to work at their facilities." He noted that the growth has been completely organic and merit-based.
Plans for Arrowhead's future growth include expanding the company footprint, acquiring new talented and dedicated team members, and expanding the company's service offerings. The Roaring 20 evaluates Hampton Roads businesses based up financial growth and strength of leadership.
Arrowhead Environmental Services, serving Virginia and North Carolina, provides industrial and environmental services to industries such as general manufacturing, chemical manufacturing, pharmaceutical manufacturing, utility companies and government. They are committed to superior safety and hold specific certifications that allow them to handle hazardous materials and enter confined spaces. Learn more at www.arrrowheadenv.com.