Legacy Ranch Tower Shoot 2017
Local Veterans Honored at Freedom Hunters' Legacy Ranch Tower Shoot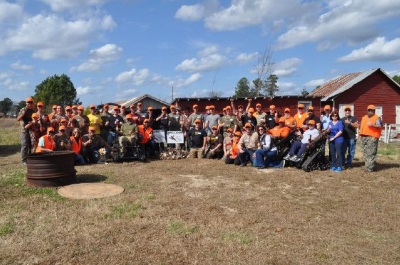 The local veteran participants and volunteers of the Legacy Ranch Tower Shoot enjoyed a day of pheasant hunting,
food, prizes and camaraderie.
Windsor, Virginia, March 1, 2017 - In its third year and at full capacity, the Legacy Ranch Tower Shoot, a veteran-centric event that provides United States veterans the opportunity to participate in a full day tower shoot-style hunting event that included hunting for 224 released pheasants, breakfast, lunch, prizes, gifts and a cleaned pheasant to take home to cook, was held on Saturday February 25th. The event hosted 32 locally based veterans on a private ranch just outside of Suffolk, Virginia.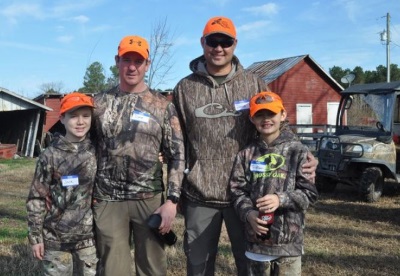 These local veterans and their sons participated in the Legacy Ranch Tower Shoot, which was organized by Mike and Judy Luter and coordinated by Freedom Hunters.
The warriors at this event were either currently serving or retired from many branches of the United States military, including the Navy and Marines. Several veterans shared this event with their children. In addition, four participants were Purple Heart recipients, three with ambulatory disabilities hunted out of track chairs (specially constructed chairs with snowmobile-like tracks to move them), two have served in the Vietnam War and many have invisible wounds such as Post Traumatic Stress Disorder (PTSD).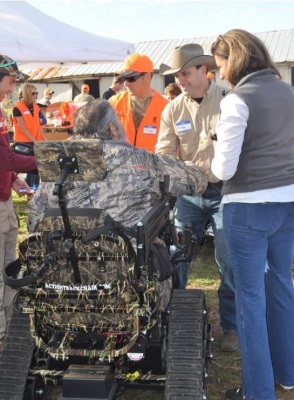 Bottom

: Organizers Mike and Judy Luter (far right) welcome a warrior, who hunted at the Legacy Ranch Tower Shoot on February 25, 2017. This disabled veteran used a track chair (specially constructed chair with snowmobile-like tracks), donated by Freedom Hunters, to access the shooting area.
As a means of sharing his passion and honoring local veterans, this event was conceived and organized by local entrepreneur Mike Luter, and his wife Judy. The Luters partnered with Freedom Hunters, a national organization dedicated to providing outdoor adventures to veterans and their families, to communicate with and recruit vets to participate in this event. The event takes months of planning, and day of activities are manned by approximately twenty volunteers, most of which are family members and friends of the Luter family.
"From the first story I heard about a veteran attending a Freedom Hunters event and the monumental effect it had on them, I knew this organization would help me share my love of hunting, while honoring and giving back to these brave American heroes," said Mike Luter, event organizer and owner of Arrowhead Environmental Services, an environmental and industrial company.
Freedom Hunters reports that in terms of warrior participation, the upcoming Legacy Ranch Tower Shoot is their largest event on the east coast and the largest single hunting event scheduled across the country, this year. Photos and videos from this event can be viewed on Freedom Hunter's Facebook, Instagram and Twitter accounts.
"These vets and their families have served our country honorably and have made tremendous sacrifices to be a part of our country's national security" said Bud DePlatchett, East Coast Coordinator, Member of the Board of Directors and National Treasurer of Freedom Hunters. He noted that "these are our true
American heroes."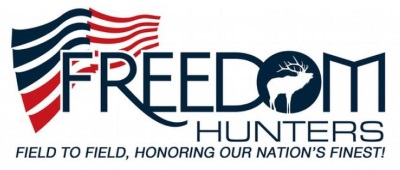 Currently, Freedom Hunters is seeking outdoor adventures for over 5000 applicants nationwide, and over 450 applicants in Virginia. Any veteran or qualifying individual can apply on their website, www.FreedomHunters.org.
Freedom Hunters is a 501(c)3 military outreach program that reflects the outdoor community's appreciation to our troops by taking select active duty and combat veterans, families of fallen heroes, children of the deployed, as well as those wounded or injured, on outdoor adventures. Visit www.FreedomHunters.org to volunteer, coordinate or donate an adventure or to apply
for an adventure.